As promised, I finally have pictures of the outfits I made for my friend Connie's daughter, who is expecting twins in October! As usual, I was running late on Saturday before the shower, and didn't have time to fuss with taking good pics. The shower was scheduled to start at one o'clock on the other side of town, and at 12:45 I was still wrapping my gifts! Thankfully I only ended up being about twenty minutes late. There were about twenty people there, and lots of finger foods. I took a nacho dip that my family loves, and I was happy to see that everyone at the party liked it too!
It took me a while to decide what to make for the babies. I knew I wanted some sort of matching outfits, but because the twins are a boy and girl, I couldn't decide what fabric to use. I settled on a cute blue, (almost like a medium denim colour) with coloured safety pins printed on it. So, I made a little romper for the boy, and altered the pattern somewhat to make a dress and panties to match. I made the twelve month size, so they should fit reasonably well next summer.
To 'fancy up' the little dress, I sewed yo-yo's under the buttons, and used snap fasteners on the straps.
I have also been wanting to follow the crowd and embellish some onesies. I thought this was as good a time as any to try appliqueing for the first time. I honestly don't know why I put it off for so long! It was so easy, and they turned out so cute! I just drew a tie shape, ironed the backing onto the fabric and cut it out. Once you remove the backing paper, you position it on the onesie and iron. That is it! I also top-stitched around the edges just to be safe. I can see lots of appliqueing in my future! How do you think my grown-up sons would feel about appliqued ties on their tee shirts? I can just imagine! All I can say is, I've been bitten by the applique bug, and I like it!
Do you like the dragonfly tie tacks? I thought they added just the right touch!
For the little girl, I thought I'd try another project I've been eyeing lately. Ruffle bum onesies! I love a ruffle bum! Sooo cute! Here is what I came up with.
Okay. I have absolutely no idea why pictures come out sideways sometimes on blogger. FIXED IT! (does anybody know? Or know what to do with it when it does? Drives me crazy!) Anyway, you get the idea.
In the end, I think everything turned out pretty darn cute, and the mom to be thought so too! And really, that's all that matters, right?
One more thing before I go. Connie's niece baked and decorated two cakes for the shower. Aren't they fabulous?
Again with the sideways! Have a great day ladies! Anne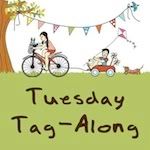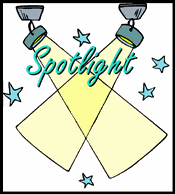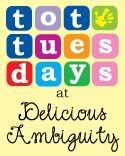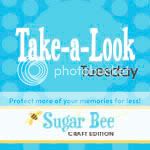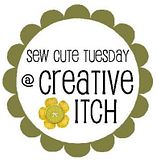 " href="http://www.sjunkie.com" target="_blank">